HYDRABERRY™ Moisture Mask
Pickup currently unavailable at Dermatriz Limited (中環)
ClearStem
HYDRABERRY is a creamy, luxurious moisture mask designed to be safe for acne-prone and sensitive skin. Perfect for anyone whose skin barrier has been compromised, or who needs extra moisture to re-plump their skin.
Suitable For: All Skin Types, incliding sensitive, dehydrated, aging and acne-prone skin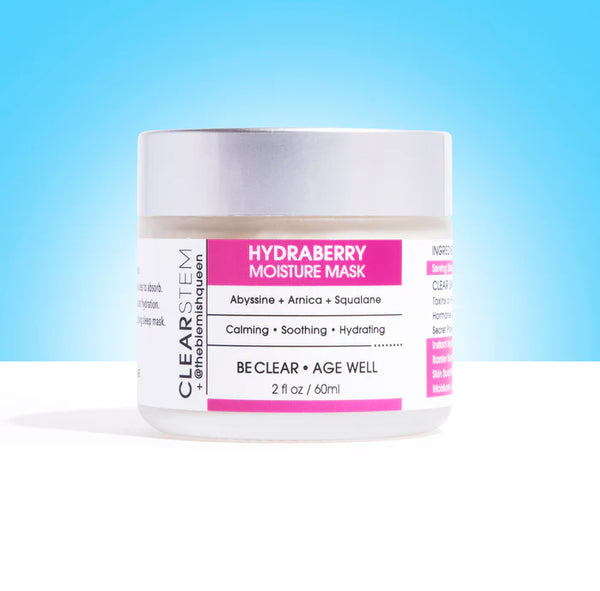 Moisturizing, Hydrating, Happy-Making
HYDRABERRY was crafted to infuse & lock moisture into your skin. Help heal dry, peeling, irritated skin, or use as part of your regular skincare routine to boost hydration and look plump & dewy at all time.
HYDRABERRY is a delicious, luxurious, hydrating face mask that was specifically designed for acne-prone & sensitive skin - especially skin that has been dried by Accutane & other harsh acne medications.Safe for all skin types, this inclusive mask improves the health of your skin by infusing it with a high concentration of anti-inflammatory ingredients like argan stem cells, abyssine, turmeric, and tea extract.You will experience skin that is calmer, healthier, and more hydrated than ever before. If your skin barrier is compromised, or you just simply love a dewy radiance, you will fall madly in love with HYDRABERRY.You can use this mask in 3 separate ways- see "How To Use" for our favorite suggestions!
PRO TIP: Be sure to apply to lips as well. #SoftLips
您的皮膚將比以往更加平靜,健康和保濕。如果您的皮膚屏障受損,或您是喜歡清新的光彩,您將完全瘋狂地喜歡HYDRABERRY™ 。


Instant relieve and moisutize skin

Soothing driness and and imparied skin barrier caused by topical and oral acne treatment like Accutane

Skin immediately becomes supple and soft

Correct sensitive symptoms like redness, heat, swelling and pain caused by allergy
Vegan|Non-comedogenesis|Curelty-Free|Toxin-Free|No Hormonal Disruptors|Alcohol Free|Fragrance Free
甘醇酸: 小分子果酸,調節油脂分泌,改善毛孔粗大、痘痘、粉刺、肌膚粗糙、脫皮、細紋等問題,使肌膚更加透亮,均勻膚色
生果酵素:溫和肌軟化老化角質及皮膚污垢,提亮煥膚
竹芯微粒: 帶走軟化後角質,質感細滑, 不會壞皮膚屏障; 環境友善, 不會影響海洋生態
維他命B3:重建皮膚屏障,保濕,舒緩,平衡油脂分泌,飽滿肌膚,抗痘
白藜蘆醇:含豐富多芬, 修護皮膚, 協助傷口癒合; 刺激皮膚細胞更新
β-Glucan: 迅速舒緩刺激; 提升益生菌效用
薑黃萃取: 抗氧化、消炎
雲母: 即時提亮,提升肌膚光采
山金車花萃取: 促進傷口癒合、消毒和消炎
潔面後, 取1元分量面膜, 塗勻全面, 輕輕按摩1分鐘, 待5分鐘後以溫水沖洗即可
Water, Glycerin, Fruit Acid, Bamboo Stem Powder, Passiflora Quadrangularis (Passionflower) Fruit Extract, Citrus Medica Limonum (Lemon) Extract, Ananas Sativus (Pineapple) Fruit Extract , Vitis Vinifera Fruit Extract (Resveratrol), Arnica Montana Flower Extract, Phenylpropanol, Propanediol, Caprylyl Glycol, Tocopherol (Vitamin E), Carbomer, Aminomethyl Propanol, Niacinamide (Vitamin B), Melia Azadirachta (Chinaberry) Leaf Extract, Melia Azadirachta (Chinaberry) Flower Extract, Coccinia Indica (Ivy Gourd) Fruit Extract, Solanum Melongena (Eggplant) Fruit Extract, Aloe Barbadensis Flower Extract, Ocimum Sanctum Leaf (Holy Basil/Tulsi) Extract, Ocimum Basilicum (Great Basil) Flower/Leaf, Curcuma Longa (Turmeric) Root Extract, Glycyrrhiza Glabra (Licorice) Root Extract, Beta Glucan, Corallina Officinalis Extract, Synthetic Fluorphlogopite, Titanium Dioxide (CI 77891), Iron Oxides (CI 77491), Tin Oxide.